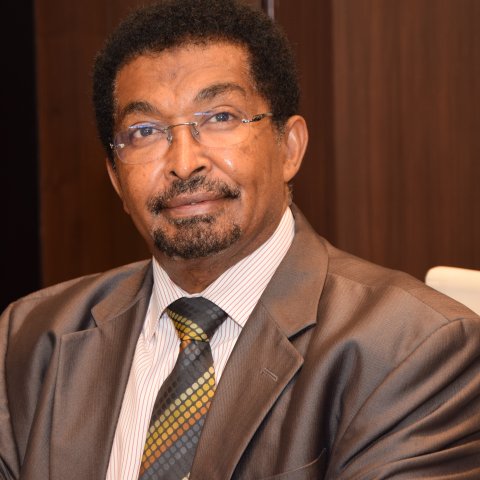 Prof. Ahmed El Tigani is a founder and the leader of Al Rawabi Dairy Company from 1989 to present. He had a visionary dream to build a farm in a desert. An endeavor which everyone assumed as a mission impossible, he proved them wrong. Starting with a farm of 500 imported cows, Professor Ahmed El Tigani had built a truly amazing farm with today's 15,000 cows, strolling under the warm Dubai sun, and pampered as babies with showers, a cooling system, automatic feeding, and much more.
He has led many great successes in the company, such as the introduction of plastic bottles in 1991 to the UAE market. First introducing pasteurized juices in the region and the first company to launch functional products in the dairy industry - such as Nutree Boost, Vitamin D milk, and Super Milk. The innovation is at the core thinking of this great man. All products are enriched with multivitamins and minerals and designed to help solve the health concerns of the GCC population.
A man of many skills with enormous experience, Dr. Ahmed Eltigani has a Ph.D. in Veterinary Medicine. He has worked as a Veterinary Surgeon and a lecturer in Veterinary Medicine to become a Director of University Farm in Sudan. From there, he became a General Manager in the National Agriculture Development Company in KSA and later came down to UAE to start Al Rawabi Dairy Company.
He is an active lecturer in the UAE at University in Al Ain, and for many years was the Chairman of the UAE Dairy & Juice Group. He has also published numerous scientific papers in international Scientific Journals and contributed to writing 2 scientific books as well as delivered many research findings in International Conferences. Dr. Ahmed El Tigani is closely involved in many social charitable and humanitarian activities and has helped in many philanthropic activities across various areas. Certificated facilitator on 7 habits of Highly Effective People by Dr. Stephen Covey this man proves to have mastered the success in personal and professional growth. Having the honor of being interviewed by international media, National Geographic, CNN TV, and Forbes magazine. He continues to show us how it is possible to achieve your goals with hard work and passion. He has been awarded 3 times as the Manager of the Year, by a European Business Assembly at Oxford, the UK in 2010, 2013, and 2018, and awarded as The World's Greatest Leader Asia & GCC by Asia One & PWC 2015