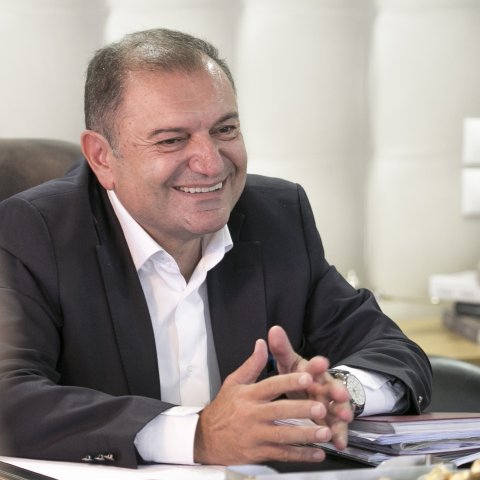 The Mayor of Pilea-Hortiatis, Mr Ignatios Kaitezidis holds a Law Degree from Aristotle's University of Thessaloniki as well as a Master's Degree in Criminal Law.

He has worked as a Lawyer since 1985, actively participates in the activities and the initiatives of the Committees of Barrister Association of Thessaloniki.

In 1994 he has been elected as a Municipal Consultant of Panorama. He has first been elected as a Mayor of Panorama in 1998 and he has been reelected in 2002 with the percentage of 79,60%  and in 2006 with the percentage of 74,35%.

After the Kallikratis Reform, in 2010, he has been elected as the first Mayor of the newly formed Municipality of Pilea-Hortiatis, based in Panorama with the percentage of 56,93%. In 2014 he has been reelected for the fifth consecutive time with the amazing percentage of 64,27%, one of the biggest percentages of the country.

After the Kleisthenis Reform, in 2019, he has been reelected for the sixth consecutive time with the amazing percentage of 70.07%!!
Ιn November 2019 he was elected President of the Regional Union of Municipalities of Central Macedonia with the percentage of 65%.
He is a member of the Committee of the Regions of Europe for 2020-2025.
During his term of service the municipality has participated in many European Initiatives and Programs as well as in many Development Agencies for Local Authorities.

He is Vice President of Amphictyony, the Network of Twinned Cities for Territorial Cooperation.

He is currently Representative and Responsible for the National Network of Healthy Municipalities-Cities of Northern Greece, which is based in the Municipality of Pilea-Hortiatis.

He is member of the Institute of Local Government and of the Committee of Institutions and Equality of Central Union of Municipalities of Greece.

Mr Ignatios Kaitezidis has been honored several times by national Organizations, International Institutions and Mayors of European Cities.

He is married with one son, Orestis, who has graduated from the Department of Electrical and Computer Engineering of Aristotle University of Thessaloniki.