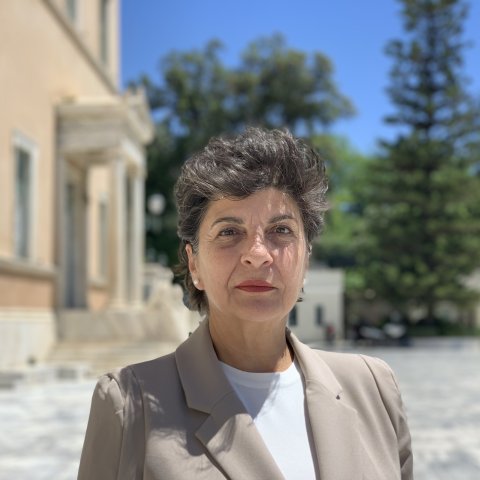 Place οf Birth: Sykia, Halkidiki.
Profession: Film director
Studies: Theater.
Foreign Languages: German.
Parliamentary Activities
- Culture, education and sports
- Environment
- Tourism
- Agricultural development
- Local development
Political/Social Activities
- President of ERT3 contractors.
- Vice President of the Association of Filmmakers - Producers of ERT SA.
- Founding member of the Greek Directors Association in Thessaloniki.
- Candidate Member of SYRIZA in Halkidiki (2007 and 2009).
- Founding member of the inter-municipal movement Halkidiki S.O.S. (preventing people of Halkidiki from claims of monasteries of Mount Athos controverting the ownership of their land).
Candidate for Mayor of Sithonia (2010).

From 2012 to 2013 Director of ET3 Entertainment Department.
- Candidate Regional Councilor with Radical Regional Unity (2014).
- After the unconstitutional closure of ERT3, she served the fight for free public television.
Candidate Deputy of SYRIZA in Thessaloniki 1st circumscription (2015).

From 2015 to 2019 Head of ERT3 Program Directorate and member of the Board of Directors of the Thessaloniki Film Festival, as a representative of ERT SA.

Candidate MEP of SYRIZA (2019).

From July 2019 MP with SYRIZA

From September 2020 Shadow State Secretary in Macedonia - Thrace issues
Member of the Central Committee of SYRIZA.