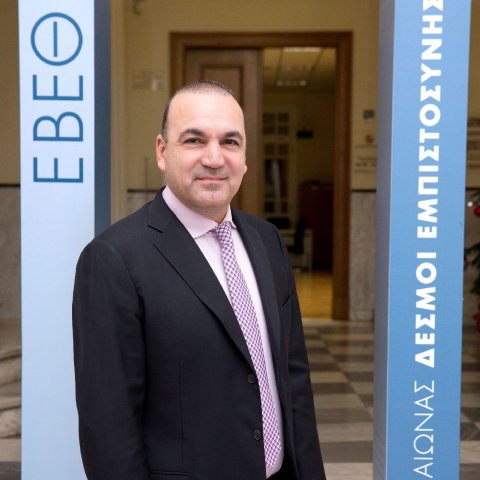 ---

Ioannis Masoutis was born and raised in Thessaloniki. After completing his compulsory military service, he joined the team of Diamantis Masoutis S.A., familiarising himself at close quarters with all its areas of operation.
He began his career in the company stores in 1990 as deputy branch manager of the Masoutis store on Makedonias Street, Thessaloniki. He completed his training in 1992 where he held the position of manager of the Masoutis branch in Kallikratia, Halkidiki.
From 1993 until 1995 he worked in the company's central warehouses, while from 1996 until 1997 he was employed in the marketing department.
In 1998 he became the company's Vice Chairman and at the same time held the position of manager of the purchases department.
From 2011 until 2014 Ioannis Masoutis was the Chairman of the company.
Since 2015, he has been serving as CEO of Diamantis Masoutis S.A.
Mr Ioannis Masoutis has been on the Board of Directors of the Thessaloniki Chamber of Commerce and Industry since 2006, the Federation of Hellenic Food Enterprises since 2008 and the Research Institute of Retail Service Goods (IELKA) since 2011.
He ran in the elections of Thessaloniki Chamber of Commerce and Industry as head of a coalition for the presidency, and was elected President, winning 91.2% of the vote.
In 2018, he was elected as 1st Vice-President of the Union of Hellenic Chambers (KEEE).
In 2018, Ioannis Masoutis signed the largest buyout in the company's history, leading Diamantis Masoutis S.A. to make a dynamic entry in the Attica market. Through this expansion, the company, already a market leader in the industry in Northern Greece, achieved a significant leap in its nationwide presence.
He received the 'Manager of the Year' award at the 2016 Retail Business Awards.
During the years 2014-15, 2015-16 and 2017-18, he was invited to participate in the jury panel of the European Business Awards.